the essential born from experience
The new 70 mm profile is part of the evolutionary process of the M80 system and is an optimal solution for the use of single glazing and the replacement of old windows, effectively contributing to the redevelopment of buildings, with the best cost/performance ratio.
With its contemporary design and extreme versatility, it can be offered in all wood materials and finishes as the other M80 versions.
Possible energy values
| | |
| --- | --- |
| Value of frame and door Uf | 1,23 |
| Value of glass Ug | 0,60 |
| Thermal transmittance Uw | 0,89 w/m²k |
Quality is in the details: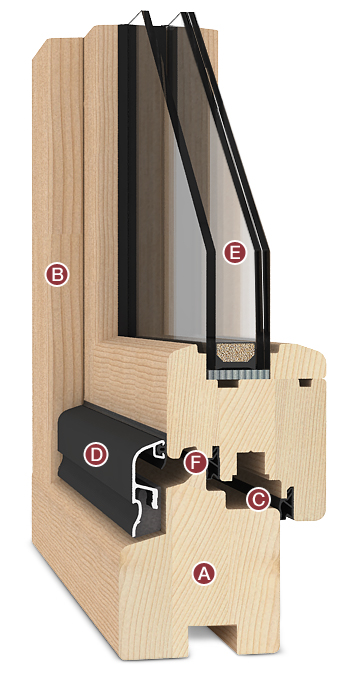 A

The WOOD used, 70 mm thick and of great quality, ensures maximum resistance to deformation and has an optimal impact on thermal efficiency, with values up to Uf = 1.2.

B

The water-based PAINTING cycle is performed with a first protective, colouring, anti parasitic and anti-mould dip impregnation. After that, an additional primer is applied, again by dipping. The subsequent phases are manual sanding and then a coat of water-soluble and breathable finish, resistant to UV rays.

C

Axis 13 HARDWARE is then installed, certified with the RAL quality mark for maximum reliability and durability. Windows and French doors feature as standard tilt and turn mechanisms, with a Level 2 anti-burglary system.

D

The innovative aluminium DRIP is no longer embedded in the lower beam of the frame, but applied externally, for proper ventilation of the water collection compartment and moving out any possible thermal bridge. A version with wooden drip, harmonised with the frame, is also available.

E

33.1BE+16gas+4 GLAZING (compliant with UNI 7697:2014) is standard, but glazing up to 32 mm thick can be installed, also with Warm Edge thermal ducts and ratios up to Ug = 1.0. All glazing units are structurally fixed to the door and sealed on both sides with anti-aging silicone.

F

2 SEALS are fitted along the entire perimeter, ensuring an optimum level of thermal and acoustic insulation. They are made with material particularly resistant to weather, UV, ozone and at temperatures from -40° to +100°.

G

The French window is made with a double bottom crosspiece.
The innovative lower stop profile with thermal cut in resin-aluminium, fixed to the floor, only 25 mm thick, meets the standards for architectural barriers.
The seal is guaranteed by a double stop with seals.

H

The CENTRAL NODE for 2 door frames is made with the asymmetric section of the two uprights inside and a central band outside.