a jewel of style and energy efficiency
The M80 DIAMANT profile provides a modern interpretation of the traditional appearance of windows, while offering the most advanced performance. Its bold and streamlined design is enhanced with antiqued or brushed finishes, ideal for rustic environments. With light lacquered hues, Diamant faithfully recalls the typical windows of the first half of twentieth century..
Possible energy values
| | |
| --- | --- |
| Value of frame and door Uf | 1,12 |
| Value of glass Ug | 0,40 |
| Thermal transmittance Uw | 0,69 w/m²k |
Quality is in the details: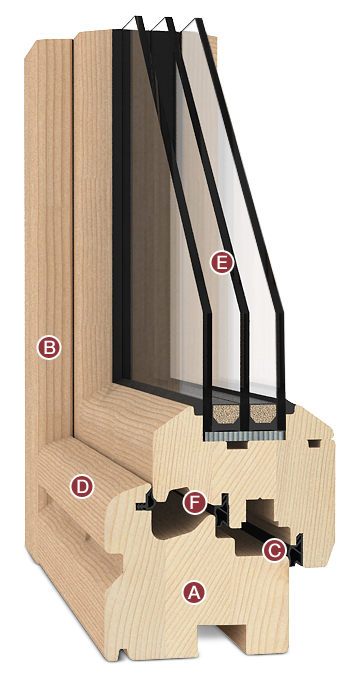 A

The GLULAM used, 80 mm thick and of great quality, ensures maximum resistance to deformation and has an optimal impact on thermal efficiency, with values up to Uf = 1.2.

B

The water-based PAINTING cycle is performed with a first protective dip impregnation, colouring, anti parasitic and anti-mould. After that, an additional primer is applied, again by dipping. The subsequent phases are manual sanding and then two consecutive coats of water-soluble and breathable finish, resistant to UV rays.

C

Axis 13 HARDWARE is then installed, certified with the RAL quality mark for maximum reliability and durability. Windows and doors feature tilt and turn, Level 2 anti-burglary mechanisms as standard, also with concealed hinges. Pivot hung and sliding opening systems are also available.

D

The water collection and disposal system is made with a DRIP entirely carved in the lower crosspiece of the frame, which reflects a traditional aesthetic style. The disposal of the water is achieved through suitable drain holes that also allow adequate ventilation of the compartment.

E

33.1BE+18gas+4 GLAZING (compliant with UNI 7697:2014) is standard, but dual-chamber triple-glazing up to 37 mm thick can also be installed, with ratios up to Ug = 0.4. To further improve performance, Warm Edge thermal ducts are also available. All glazing units are structurally fixed to the door and sealed on both sides with anti-aging silicone.

F

3 SEALS are fitted along the entire perimeter, ensuring an optimum level of thermal and acoustic insulation. They are made with material particularly resistant to weather, UV, ozone and at temperatures from -40° to +100°.

G

The doors are made with a double bottom crosspiece, in keeping with the typical style of the profile.
The innovative lower stop profile with thermal cut in resin-aluminium, fixed to the floor, only 25 mm thick, meets the standards for architectural barriers. The seal is guaranteed by a triple stop with seals.

H

The CENTRAL NODE for 2 door windows is made with the asymmetric section of the two uprights inside, and the central band outside, in order to have a maximum reduction of the front impact of the node, but the client can also request the band on the internal side, with the centred handle.